Castle Electric Voltage Stabilizers comes in single phase and 3 phase power.
The single-phase stabilizers which range between the capacity of 5- 30kVA are designed specifically for small offices and homes. They can be used to provide voltage regulation to computers, UPS unit supporting servers, smart TVs, freezers and refrigerators, air conditioners, hospital equipment, DVDs, printers, etc.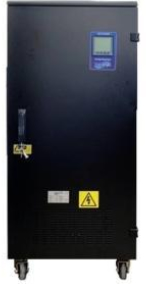 Single Phase Voltage Stabilizer: 5-30kVA
Their features include fast regulation, bypass function, overcurrent and overload protection, digital displays for input and output measurement, servo-controlled or relay type (as requested), bulk-boost or toroidal transformer design (as requested), etc. They also come in wall-mounted topologies

The three-phase servo-driven technology specifications ranges from 10kVA – 150kVA capacity and 200kVA to 2000kVA. These classes of stabilizers come either as air-cooled or oil-cooled.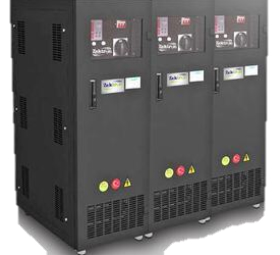 Three Phase Voltage Stabilizer- Air-Cooled Model
Three Phase Voltage Stabilizer- Oil-Cooled Model

They are microprocessor controlled heavy duty voltage regulator which provides regulation to the input supply of critical loads. Their technical specification is not limited to the following: individual phase control and regulation, 3 phase input and output, wide input voltage range, fast regulation, Bypass operation, overload and overcurrent protection, digital displays for input and output measurement, etc. Our voltage stabilizers are of good quality and comes with 12 months warranty and 24/7 service support.